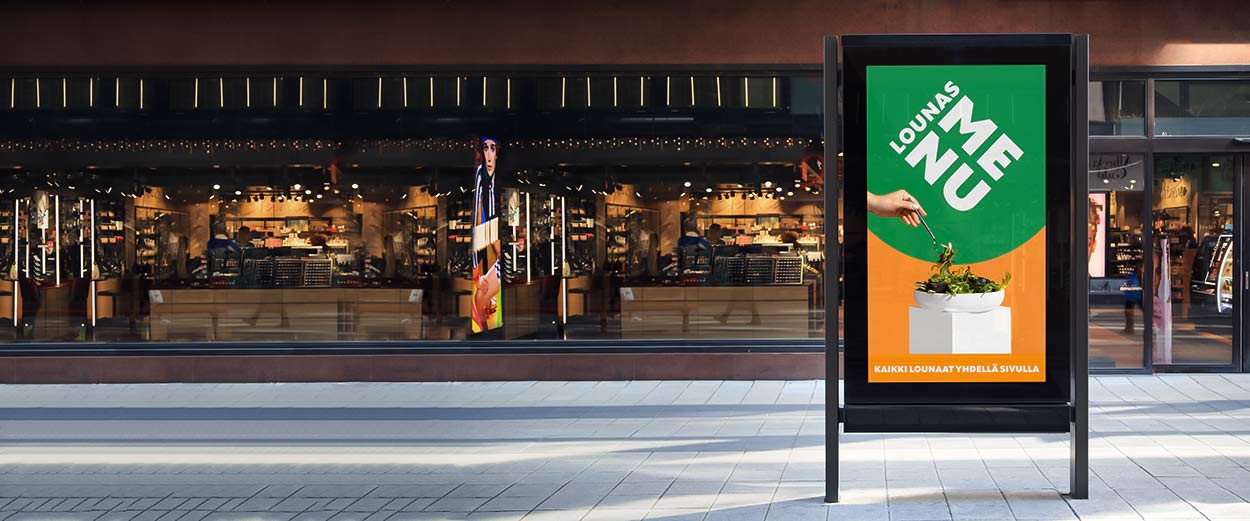 Your lunch menus,
published to thousands
of foodies every day
---
About
Lounasmenu.fi is a part of the international project that helps people find great restaurants in Finland, Sweden, United Kingdom, Denmark, Spain, and Canada.
With thousands lunch menus in 215+ cities and towns in Finland, Lounasmenu.fi makes it easy to find exactly what you're looking for.
Would you like to promote your product or service on our website Lounasmenu.fi? Read more
---
Supporting locals
To support small businesses and restaurants impacted by Covid-19 pandemic in 2020-2021, we added more than 1500 lunch places to our database free of charge.
Having a great page on Lounasmenu.fi helps restaurants establish trust with potential customers.
We do not publish fake or bad reviews that could break restaurants' reputation.
By uploading a daily lunch menu and offering deals and promotions, business owners can reach thousands of people who are not yet familiar with their restaurant.
---
Why Lounasmenu.fi?
Automated menu collection
Unlike other lunch menu services and solutions, we do not make things complicated. You don't have to upload a new lunch menu to our website if you do not have much time to do that. We've got you covered. Our automated system based on AI and machine learning helps us collect all the lunch menus in a short time.*
Time saver
People are so busy at work that they do not want to waste time on endlessly searching the web for new lunch menus and places. We are the largest lunch menu platform in Finland that connects thousands of people with local lunch places by publishing all the menus in one place.
Smart geolocation
With Lounasmenu.fi maps, you can search for new restaurants that are open for lunch. With custom filters, people can search for something specific like a type of cuisine they like, or for vegan-friendly places.
Lunch deals
Most of Finns spend 62 euro on lunch every week, or about 2700€ each year. It is not enough just to have great food to turn one-time customers into regulars. Lots of people choose restaurants based on type of food OR a promotion or discount. With Lounasmenu.fi Pro subscription, you can publish deals and coupons on your restaurant's page and promote it on our Deals pages.
---
Our lunch menu is not showing*
If your menus is not showing or showing incorrectly on LounasMenu.fi website, this means that our automated system is unable to access your website or recognize your lunch menus for some reason.
We suggest that you get a Pro or Premium plan, so you'll be able to upload and update new lunch menu in your account quickly and easily.
---
Pricing
Find the plan that's right for you. Manage your business account and stand out from the competition. Price per month, billed yearly + VAT/ALV.
---